Defender Military & Rapid Response Vehicles
The world's most capable, functionally flexible, all-terrain defence vehicles.
With over 60 years' experience, Land Rover provides armed forces around the globe with light 4×4 vehicles designed to meet a wide range of defence and peacekeeping roles.
Land Rover's range of military vehicles is based on the hugely versatile Defender platform which can be fitted for a range of general purpose or specific applications.
Land Rover Defence Range
Military versions of Defender are based on the civilian base vehicle, having the same basic chassis, powertrain, axles and bodywork. However, many features have been developed and adapted for military use over many years to meet NATO standards and the requirements of our customers. There are currently over 55,000 Defenders in service with armed forces around the globe.
Land Rover military vehicles are all designed to meet the needs of the modern armed forces. For that reason, they are especially suited to rapid response situations, having the optimal external dimensions, high payload to weight ratios, special fixings and quick strip down ability. Specialist features that can be added to enhance operational capability include crew roll over protection, winch systems, winterisation, and personal weapon stowage.
The latest common-rail diesel engine meets current EU4 exhaust emissions legislation while being able to run without modification on all NATO fuels.
All Defender military vehicles have (JATE) rings fitted to the chassis for air and heli-portability (JATDEU has formally approved Defender for these purposes) and can be transported within a C-130 and, with suitable adaptation, in a CH-47 and CH-53 helicopter.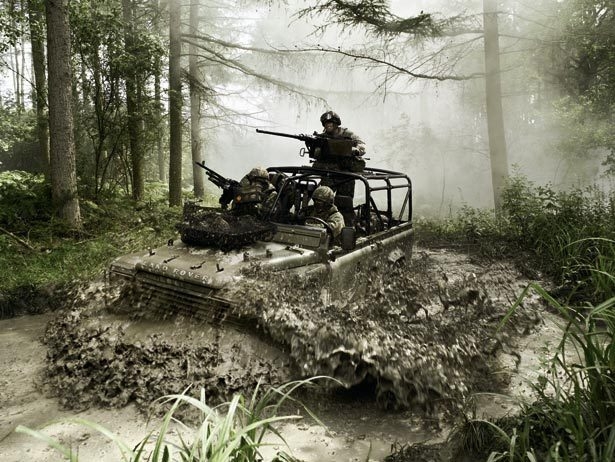 Defender General Service (GS)
The Defender 110 GS 12v Military Vehicle forms the basis of the Defender military offering.
Based on the heavy-duty 3500 kg chassis (outside Europe only Jan 2011 on), it is available in Soft Top, Hard Top and Station Wagon form in Matt Sand/NATO Green/Gelb Olive and has, as standard, a range of military features such as blackout lighting, side stowage lockers, NATO hook and 12-pin socket and a raised air intake.
The ST and HT versions also have a unique rear body design giving improved front cabin comfort.
Defender 24v FFR (Fitted For Radio)
Based on the GS, the FFR's combination of 12/24v architecture, 280 amps of electrical power and full Def Stan 59.411 Class A/Mil Std 461F-compliant suppression, ensures it is the best vehicle to meet your C4i electronic surveillance and counter-measures needs. Air-portable, glass mat radio batteries are now mounted under the rear floor to increase the available loadspace area while the radio operator's seat is forward-facing with an integral headrest and 3-point belts. Air conditioning, ABS brakes and Electronic Traction Control are fitted as standard.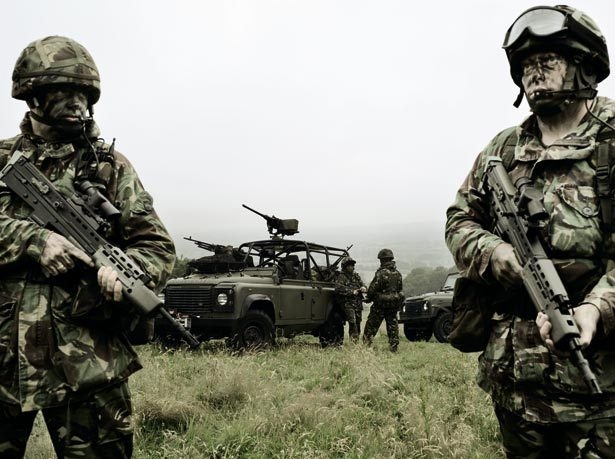 Defender RDV (Rapid Deployment Vehicles)
The RDV is a modular platform for equipment and weapons based on either on the GS or FFR. It is a tough, flexible and exceptionally mobile vehicle specifically designed to meet the increasingly important border patrol, short or long range of missions, peacekeeping support, humanitarian and refugee protection operations that face the world's defence forces.
The RDV conversion incorporates a full roll-over protection system with a 360º ringmount structure approved to accept an 0.5″ HMG, twin 7.62 mm GPMG or 40 mm grenade launcher. It can be fitted to a prepared base vehicle in four hours with standard hand tools, which permits rapid reaction units to become fully mobile in the minimum amount of time. A mount for a 7.62 weapon for crew protection can be fitted to the A-pillar and another to the rear of the vehicle. The flexible loadspace, with special mounts, versatile and flexible netting and straps allows for efficient stowage of weapons ammunition, kit and rations.
Two RDV versions are available – one a three-seater configured with a low-profile superstructure to allow stowage inside a CH-47 or CH-53E helicopter, without the need for dismantling, the other with a normal superstructure height to accommodate an additional rear-facing weapon post and gunner. Both can be stowed in C130 transport planes and are fully approved by JATE (UK MoD) for air transportation.
Defender Military Ambulances
Land Rover's Defender 110 and 130 ambulance variants enable paramedics to rapidly reach and extract a casualty even in the most hostile terrain. The Defender's agility and off-road performance makes it the ideal ambulance for mountain rescue, battlefield casualty evacuation (casevac) and disaster relief roles.
The Defender Ambulance can be fitted with a full range of medical emergency equipment.